If there's anything ruining your afternoon is a digging underwire and straps that are starting to annoy you. When wearing your bra feels like Monday morning blues, it's a sign to get fitted for a new bra. A bra may only live up to 6 months if worn frequently or less. If you feel there is a little devil under your shirt poking your ribs, you have to check if your bra is still the right fit for you. Your breast changes size when you gain weight or lose weight which may lead to a wrong fit bra.
But before you get ready to go to the store and get yourself fitted for a new bra, you have to know the technicalities so you will know your direction in choosing the right bra for you. Here's what you should know;
1. Understand How Bra Sizing Works
To figure out your bra size, remove your top and keep your bra on. Have someone measure you around the smallest part of your lower bust, where the band sits and round up or down to the nearest even number. Measure the fullest part of your bust. Go through a letter for each inch of difference and you've found your cup size. For example, your band size is 38" and your full bust measurement is 44". This makes you a 38 DD or 38 E, depending on the sizing chart.
2. Sister Size
Not all bra size maybe available on the shelves or if there is, you may not like the color or the design, you should be happy to know, bra sizes have a "Sister size." If you are a 34B you might be able to get away with a 32 C or a 36 A. By going up a cup and down with the band, you may be able to get a comparable fit but always try it to check the comfort.
3. Know what a "Good Fit" is
Knowing what you want can help you know what to get. The middle of the bra should be flush against your sternum comfortable where the underwire meets. Make sure you can adjust your strap snugly and fit two fingers between your shoulder and the strap. The band should be straight and parallel to the ground and gaze the bottom of your shoulder blades. Avoid a band that is too tight that fits on the last clasp tightest clasp. Lastly, check if your girls sits comfortably on the cups and not spilling over or under the cups and there should be no gapping at the top of the cups.
4. Mind the Cup Size over Boob Shape
Not All 36B bras fit you. The cup design also matters with the shape of your breast. Even though your measurements put you at that size, the fit is just as important. Those huge-cupped t-shirt bras always have a little extra room in the top and gape. Understand your breast shape and shop for bra styles accordingly. For breasts that are a bit fuller on the bottom, a demi-cup or a balconette bra is going to be your best friend. For breast with full breasts, a larger cup with more coverage is going to give you more support.
5. Utilize Modifiers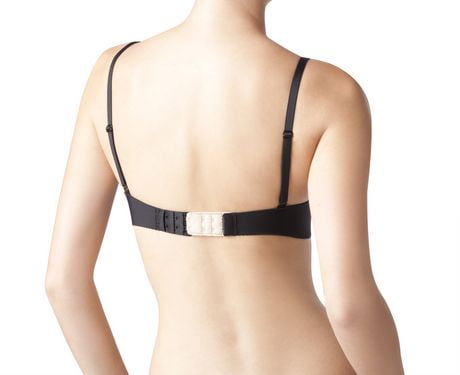 If you can't find the right size for you, but other size are available, try to modify. Utilize bra cookies or chicken cutlets if no cups fits or band extenders if you can't find the right band for you. Racer back clasps can customize your bra and make it fit better for you.
6. Breast of Different Size?
If you have breast that don't match in size and giving you a problem in finding the right bra, look to a soft cup bra with elastic on the top cup. This is going to give you some room for it to stretch to accommodate the larger breast while still coddling that smaller breast and preventing gaping.
7. Try It Out
If you just stand there and look at the numbers on the tag, you can't get the right fit. You have to try it on like you are wearing it every day to make sure it is comfortable and fits right for what you want in a bra.
8. Don't be Afraid to Break the Rules
Sticking to the Idea of what a bra should be makes your search for the right bra harder. Some women wear bras to boost their cleavage and some just want enough support and comfort. Not every person who puts on a bra is trying to hoist them high and make them look as huge and perky as possible.
9. Hate Straps?
Straps can annoy some women and opted for strapless bras. But, strapless bras are not for everyone. It's a hit or miss. Sometimes, you have to know more about it before it works, even without straps it's complicated. An Adhesive bra can be your option in that case. No straps no bands, just know your cup and you are good to go.
When you know what you want of a bra, you'll know what you buck is worth when you get out of the bra shop, so don't let anybody instill anything of what you should wear or not and be happy.
 Next, Learn more about The Myth of The Mysterious Bra Size. Also you might like 19 Lipstick Hacks Every Woman Needs to Know