On a warm season it's just too hot to wear a bra, or even the rest of the season, but summer can just be too hot to wear one. It supports your breast but in the hot weather they also lead you to chafing, boob sweat, and general feeling of discomfort. The only thing worse than feeling sweaty pads against your girls is putting on an adorable backless or cut-out top… only to have it ruined by your visible bra.
Most summer tops are not made for bras, they are made to be breezy for the summer weather, and going braless sometimes can be the best option you can do for more fresh feeling and enjoy your summer. Yes, for girls with bigger boobs can be impossible sometimes, But here are tips that will allow you to go braless and will change your mind and enjoy your summer outfits.
Nipple tapes and Pasties
Your nipples can have a mind of their own, and cool breeze can wake them up and manifest themselves on your shirt. A nipple pasties or a nipple tape or even a band aid can conceal the bulge that your nipple make, so you'd look like you are wearing a bra when you are not.
Avoid nip slips
When wearing a breezy loose top or a deep v-cut dress that sometimes stray fabric around your boob area, make sure to tape it with double sided tape or fabric tape to your body. While being braless, you can relax knowing your boobs won't peek or come flying out while you move.
Keep An Outer Layer Ready
There are places when being braless is acceptable and sometimes you might need to go for a short visit where daring looks are not acceptable like churches. Always have a piece of clothing to layer yourself like a hacket, sweater or cardigan to conceal your braless look and always be versatile while being braless inside.  This can be a life saver from awkward situations.
Opt for Tight Clothes
Tight clothes like body suits can act as added support to your breast with the fit alone is enough to go braless and more acceptable. These are usually the styles that you can't find a right bra to go with it therefore going braless is best for these types of clothes. With the help of nipple covers to make your outfit more seamless.
Wear A Cut Off Tank
A loose fitting cut off tank is the perfect casual top to go braless in. It's loose enough to get away with it and not so tight that you'll see your nipples through the shirt fabric. Just a peek at side-boob makes this look feel edgy and fun. If you want to show only the side boob and hide the nipples instead, you know what to do. Wink ;)
Don't Double Take Your Boobs
Don't draw attention to your braless breast by always looking at them. Others may wonder what you are looking at and draw their attention to what you are looking and will notice that you are not wearing a bra when they did not know that you are not wearing a bra. Remember, the goal is to look to appear effortless and carefree.
Embrace Your Boobs For What they Are
Your boobs with jiggle and sway without your bra. Nothing is holding them in place and may come sometimes different shape with others. If it's your first time, it may hurt at first while going braless, but over time, your breast will get used to its weight and improve herself to carry weight and even give your breast some lift. A French study claimed that women who went braless gained 7mm lift every year and that's good enough that going down south.
Don't Overthink it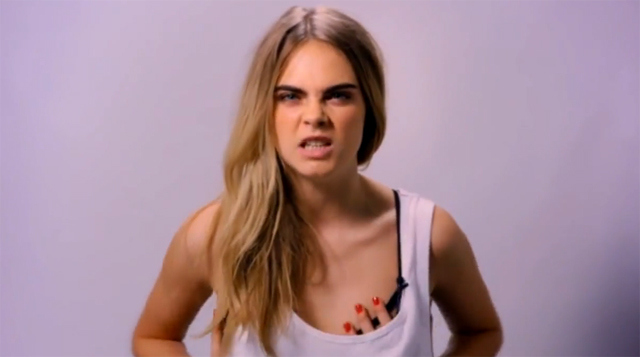 Not all women can go braless confidently with much fear that takes over than the benefit it provides. If you think it's way too much for you which gives you headaches because of worrying all the time, just wear your bras and make sure to wear the most comfortable one and the right fit to avoid more problems. But if you really want that healthy choice of going braless, you can transition by using less restrictive bras or Nipple Pasties.
Next, Learn more about Cleaning out Your Wardrobe - 7 Types of Clothing You Should Get Rid of Immediately. You may also like -  9 Ways to Get Naturally Gorgeous Skin Without Spending a Cent