It's time of the year for a scare, but at least not for your your health and your kids. It is important to keep it worry free and no regrets after the holiday! Just enjoy the Holiday Scare and keep in mind these 5 things to keep a happy and healthy Halloween.
Eat before the treat
Before the kids go out for the the trick or treat make sure they have already taken their Meal. Going out with a full stomach will avoid the kids to munch more on their treats. Not like if they are hungry going out from door to door, they'd consume all the unhealthy sweets in their pumpkin buckets. Sugary sweet loot candies  that are collected in Halloween adds up to about 11,000 calories according to Children's Healthcare testing. This is equivalent to a week of worth of calories.
Don't Hide the Candies
What to do with the candies after? Make them surrender the candies to the fairy godmother!. You have to worry about your kids eating all up the candies. A Dentist scare will always work, and perhaps control the candies or make them earn it, but don't be to hard on them. Pure chocolates last about two years without any health risk, but the texture will change after 12 months. Either you can swap their good deeds with candies or swap candies with chores. Or you can play "Switch Witch" and switch out their candies with something else they like.

Trick your Drink
So you are at home at halloween night, waiting for the doorbell to ring for kids asking for treats. The next doorbell maybe a long night to wait. You can't just ignore those poor little dress up creatures, so you take a drink and wait. You might get a lot of drink for yourself because it's a long night of doorbells. Trick yourself by using a tall slim glass so you'd think you had more drink.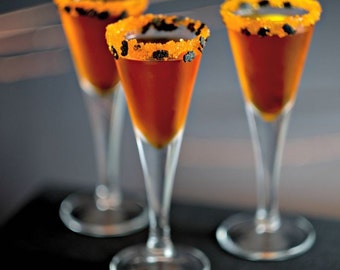 Scientists at Iowa State University watched how much people pour and learned people struggle to assess volume, tending to focus more on the vertical rather than the horizontal measures.Drink from a narrower glass and you'll only think you are drinking more. Plus, you'll get a little exercise if you do have to get up for that refill.
Don't get Zombified
Halloween Parties are up and costumes and make ups are required. Before putting on those face paint, make sure you test it on your arms. Don't use makeup that smells awful, it might be contaminated!  You might look and smell realistic just like a real zombie!  If you prefer to wear a mask, make sure to disinfect the it specially the inner part of the mask. The microscopic monsters can cause infections. Alcohol should disinfect properly. Pay particular attention to the nose and mouth.
Eye Terrified!
Taking it to the next level and getting that scary eyes look. Michael Jackson wore that red eye contacts on his video "thriller", you'd think you can top that level as well. But wait, Wearing contacts lenses that don't fit properly can suffocate your eyes, causing irritation and infection or worse blindness. If you want that next level, get a prescription.
Chocolates are not for dogs
It's nice to have a minion to guard your kids while going on trick or tricking. You can dress up a dog too and come with your kids. But, before that, you have to give them a good briefing and warning that chocolates can kill a dog. Not only that, the wrapper and lollipop sticks may choke the dog. Beware of the dark chocolates, because they are even more deadly to dogs. I guess this is one way of teaching them to be responsible.
In the end, let the holiday be enjoyable and get a good halloween scare! And let it be just that!

Next: Read how to get natural lift without a Bra!

Disclaimer: The views expressed in this article intend to highlight alternative studies and induce conversation. They are the views of the (others) author(s) and do not necessarily represent the views of StickeeBra, and are for informational purposes only, even if and to the extent that it features the advice of physicians and medical practitioners. This article is not, nor is it intended to be, a substitute for professional medical advice, diagnosis or treatment and should not be relied upon for specific medical advice.
Join the fight against Breast Cancer, No one fights Alone!  Wear your Support.
With every purchase of the
Limited Edition Fight Breast Cancer T-Shirt,
$3 will be donated  to KAB ( Keep A Breast Foundation ) to support their cause! 
Follow them on Facebook! 
https://www.facebook.com/KeepABreast/

The Limited Edition T-Shirts will only be available until 31 Oct 2017. Hurry and get your Limited Edition T-Shirts Now and Join the Fight! 
*** Please take note that TEES are shipped from a different fulfillment center. You would be receiving 2 different parcels if a TEE and a Stickeebra is ordered. Thank you.