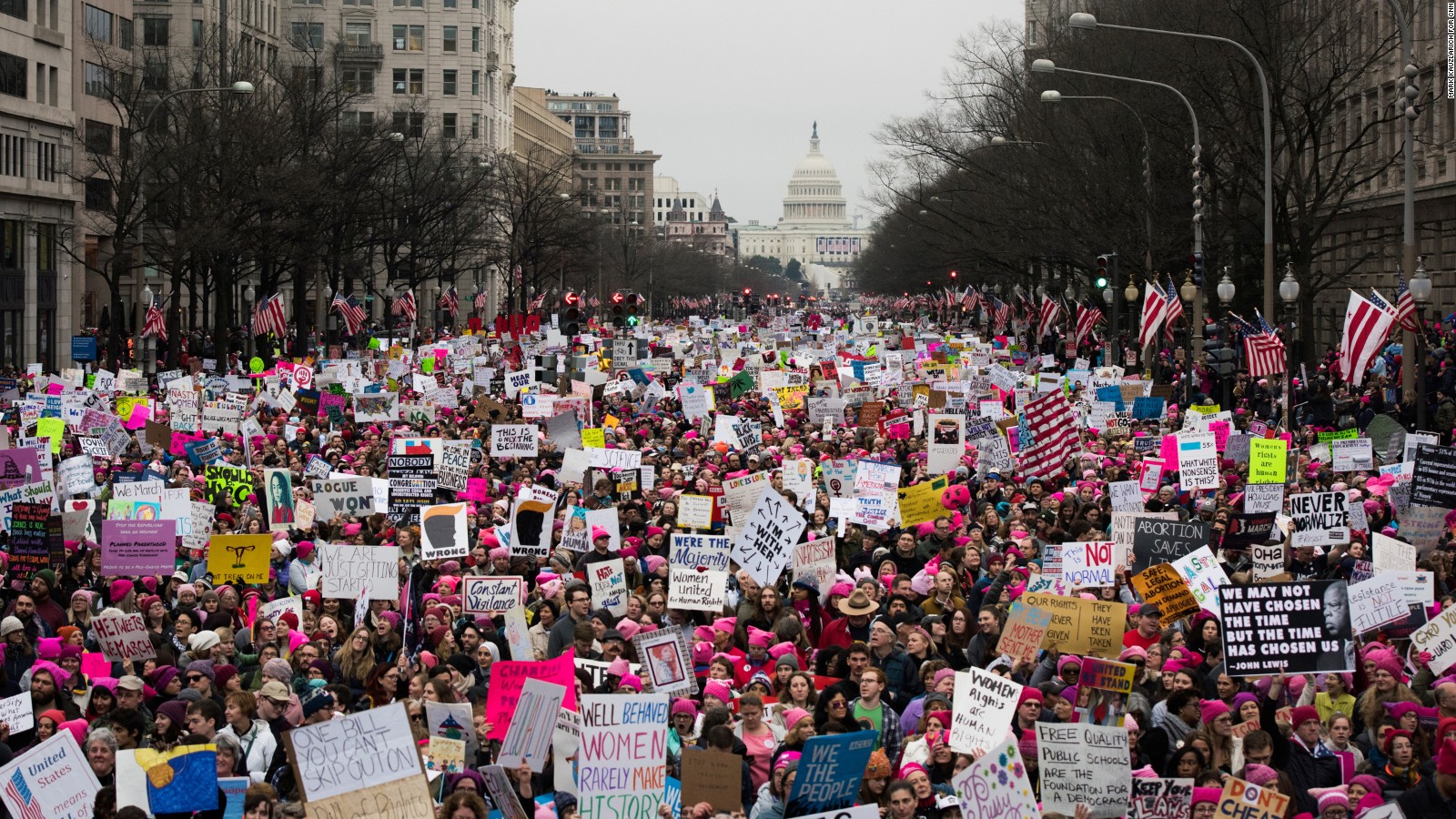 2017 has been a turbulent year and we have been tried. the year saw a rise of attacks on women by a political party, including the efforts to defund the Planned parenthood, undermine women's legal and reproductive rights and slash essential health benefits.
There were also threats to issues on woman care about: protections for children, civil rights and the environment, just to name a few. And the world was blown when this reports of sexual harassment and assault being exposed how pervasive this problem is for women in all sectors of society.
With all that happening last year, it's been a trying time for many women. But there is an upside…Women are rising and fighting back this year!
In response to these attempts to diminish our power and silence us, women are in their outrage. More engaging, energized and resolute than ever. Women fight back and exposed the issues that were long ignored. We know how social media can influence like wild fire and more women speak out and get heard.
This fire now burning in women explains why, even this year was very rough and give us hope. We must be optimistic about what's going to happen in 2018 for us.
Women are rising up and taking movement into the mainstream
Not only Speaking out, but women are being heard. Protesting, marching, organizing to build power. You will see the support from the millions who join the Woman's march to the survivors who bravely went forward with their stories of sexual harassment and assault. Even the big names of the entertainment industry step forward in the #MeToo movement and broke their silence. Social media has become increasingly effective at mobilizing younger generations of women and girls.
As California Congresswoman Maxine Waters, who has been one of the most outspoken advocates of this new "resistance" said, "When I spoke at the historic Women's March in January, I was extremely inspired and encouraged. Following the election of Donald Trump -- a man who had defined himself as having no respect for women and who was prepared to use his office to turn back the clock on the progress that had been achieved by the women's movement, the civil rights movement, and the LGBTQ movement -- a very diverse group of women organized the Women's March, which brought together thousands of women from all ages, ethnicities, religions, and walks of life, who showed up and gained the type of attention for our concerns that we haven't seen in many years.
She continued: "Since the march, I have been very pleased by the leadership and participation of younger generations of women, particularly the millennials, who are continuing what was started in January and are running for office at record levels, organizing their communities, and, as we have seen with #MeToo, are boldly speaking truth to power in order to fight for the change we so desperately need in this country. This is what the 'resistance' is all about, and these signs help me continue to be hopeful during this very tumultuous and chaotic period in our country."
Women in Politics is Growing 
Women are running for office in record numbers, there has been a dramatic increase of women donors funding campaigns, and more and more strong women leaders are emerging. Parity for women in politics is being rightfully reframed as an essential component of a reflective democracy, and the need for women's input and voices in government has never been clearer.
Emily's List, an organization devoted to electing female candidates, has reported a huge surge in women interested in running for office, with more than 22,000 women contacting the organization since Trump was elected. Other groups offering training programs for women report similar increases and also note the trends of a more diverse and younger cohort of women candidates.
Powerful men are being held accountable in cases of sexual harassment and assault. 
Some of the world's most powerful male publish figures face the worlds bashing as they swiftly topple down from their jobs and platforms and facing the harsh public bashing from their allegation of abusive behavior.
Corporations and media entities are supporting women with strong statements of demonstating zero tolerance on sexual misconduct. Politicians who were accused of such allegations are pushed to resign.
Eve Ensler, founder of the anti-violence group V-Day -- and playwright of "The Vagina Monologues" -- told me that she recognizes that this moment of reckoning is a good start, but reminds us that we must continue to be proactive: "This could be a tipping point, but a lot has to happen. This tsunami of telling has to translate into concrete irreversible action -- from telling transformation, from revealing to revolution."
And men show their support to women.
As #MeToo becomes the story of the year, many men are freshly reflecting on their own and their colleagues' behavior, and our society appears to be in the beginning of a long-overdue national conversation about the abuse of power and privilege, the socialization of men and boys, the objectification of women and a culture of toxic masculinity.
There is an important reframing underway: these are not "women's issues" -- too long misplaced, trivialized and marginalized as such -- they are human issues that we need to address together.
Ted Bunch, co-founder of A Call To Men, a group that educates men all over the world on healthy, respectful manhood, shared with me his hopes for the transformation this shift could bring: "We hope that men will start to understand that they are the solution. We have an opportunity to educate men about how our collective socialization results in a culture that devalues women and ultimately allows many forms of violence and discrimination to persist and harms all of us."
Although 2017 has been full of obstacles, we can't deny that it has also emboldened women and girls. This is a potential tipping point, if we constructively use it and harness this energy. It requires that we all stay vigilant and address the issues we care about.
Sen. Gillibrand told me: "As we head into the new year, my advice to women is this: Don't wait for some white knight in Washington to ride up and save us. You will wait forever. It is the grassroots who will create the message, launch the campaigns, and win the elections that finally change our country for the better."
Disclaimer: The views expressed in this article intend to highlight alternative studies and induce conversation. They are the views of the (others) author(s) and do not necessarily represent the views of StickeeBra, and are for informational purposes only, even if and to the extent that it features the advice of physicians and medical practitioners. This article is not, nor is it intended to be, a substitute for professional medical advice, diagnosis or treatment and should not be relied upon for specific medical advice.