Searching bras for the less gifted can be a nightmare - but there are experts that could help us how to get a better fit for girls with small boobs. Here are hacks for girls with small boobs to get a better fit.
Having a small boob can be very convinient and looking for outfits that fit is easy. But looking for a bra can be hard. Straps may be slipping, boobs swim, gaping cups and all the bra struggles. But, don't worry as we have gathered some hacks to gain a beautiful small boob bras. bra expert Suzanne Pentland and Boux buyer Lisa Annand agreed to share their wisdom, as well as Sarah Jenkins.
 Get Measured
It is very important to get measured specially with your band size. Sometimes in a few months your size may change. Remember your boobs consist of fats, stress and diet may affect your breast size from time to time. Your band size and cup size may not be the same 6 months ago. It is best to get fitted regularly. Or you could get a bandless/strapless bra so you won't have to worry about changing  band sizes and cup sizes from time to time.
Get the right Fit
A right fit bra should sit firmly but comfortable around your body, enough to hug you but not too tight that it digs to your skin. The underwires should lie flat against the rib cage and have the right shape or contour of your breast. The breast should be contained within the cup with no puckering or bulging in the cup fabric.Buy a bra on the loosest hook and eye to account for stretch; throughout its (long!) life you may want to take it into the tightest setting. An adhesive bra could be a good option for you, even it does not have an underwear, which is a good thing, it still gives you a lift using the center clasp and brings your breast together and create a cleavage effect. It contains your breast since its sticks to your breast and conforms to your breast. 
Don't limit yourself to what's available on the shelves.
If you are quite small on the top, probably around 30 or 29 band which is very rare in the boutique inventory. You may request for your band size and don't settle for the smallest size they have. Of course, there are bandless bras that caters standard cups and again, you don't have to worry about band sizes.
Material can make all the difference.
Of course, material matters when it comes to comfort. The lace fit lighter since they are not very stretchable and the stretchy synthetic fabrics are pretty much a breeze. Although Rigid lace fabrics can fit firmer and tighter than stretchy fabrics and provide better support, but you will have to give up comfort. A less restrictive bra is better when it comes comfort, but you can have both firm and comfortable support with a silicon bra.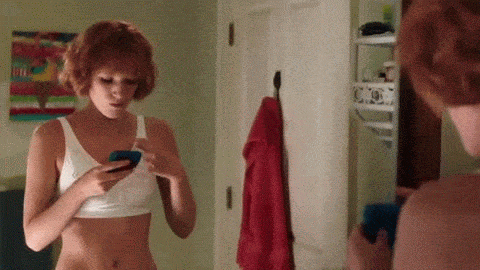 Make a padded bra work for you.
If you want to enhance the small bumps, a padding is what you need. The pad will serve as a boost at the bottom, so you have that lift effect or cleavage if you are lucky. But did you know, a sticker bra with lacing design can give you a lift,  by tightening the lace to bring your girls together in the center to create that cleavage drama. 
You might even need to go up a cup.
Overspill, Yes, it can happen on a small bust too! If you want to add some pads on your bra, you may have to got one cup size up since you're trying to convince everyone that you got a bigger boobs, right?
Gap problem
Gaps are sometimes is an advantage. It can be used as an extra pocket for your EDC stuff (everyday carry)  But if you consider this as a problem, this may be caused by a too small cup or your band is too big. Also, padded bras may not be a perfectly for you and may stand away from your breast. Adhesive bras rarely have gaps, if you have tried one, you'd agree. 
The Experiment
Small breast has variation in shapes and size. Even you have found the correct size, it may not be comfortable for you or certain styles may not suit your girls.
It is best to experiment on different styles until you get the perfect one. Or then again, get an Adhesive bra, you will have a full control over your breast  with the proper and correct angle position upon wearing it, with it's center clasp or lacing design, you will be acquire your desired lift.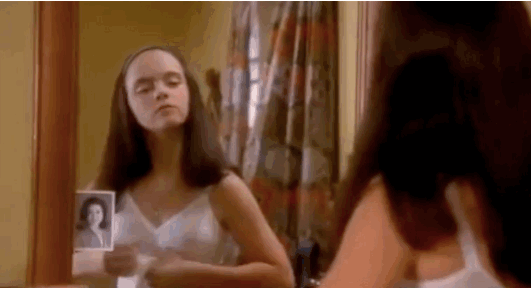 For strapless and bandeau styles, make sure they have enough grip.
"Silicone bras around the band help to provide extra grip, so your bra sticks to the skin slightly and it won't be as likely to slip, According to one of the expert, Sarah Jenkins " Silicone bras are the best." but be careful of the cheap sheeps, they won't last 5 minutes.  
Bras with Boning in the sides
Side boning anchors the bra to the frame, preventing the sides from collapsing helping you to feel supported. But with the wrong fit, this can be painful like underwires. So it goes back to the first hack. Make sure you have the right fit. This pushes the breast towards the center and create shape and can help maintain the structure of the bra in long term. But if you believe in the French research about bras blocking the lymphatic system, I doubt you're gonna wear this. A Silicon bra is still the best option, since it sticks on your skin, instead of pushing your breast, it drags your breast together with the bra in the center as you close the clasp.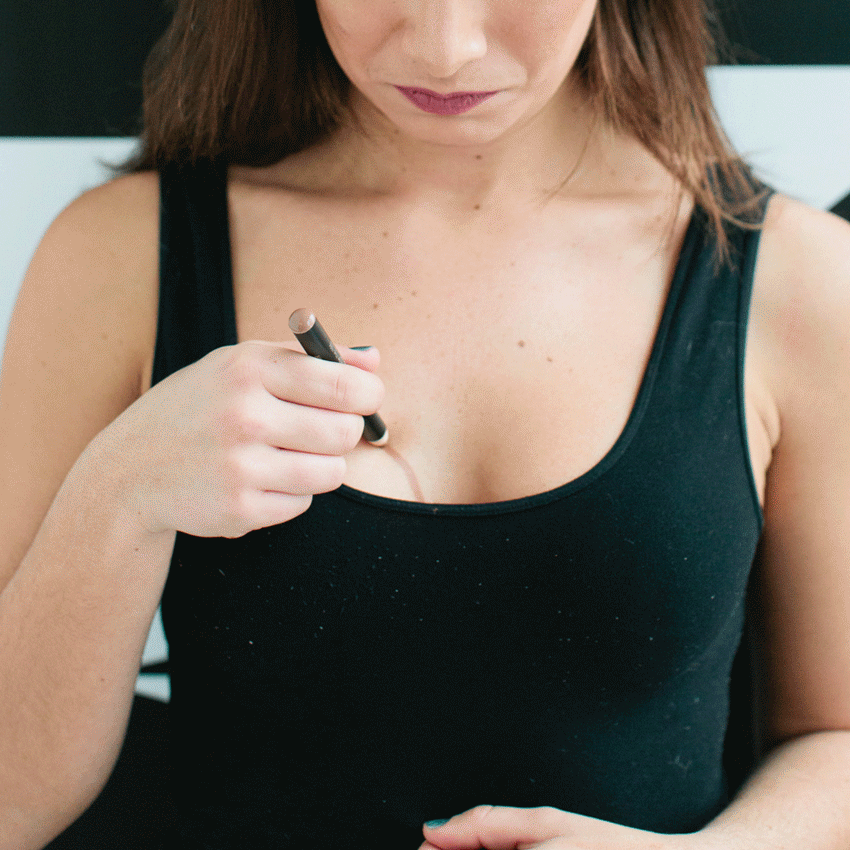 Hate underwire but want some cleavage?
Many don't like the underwires, but they still use it since they want cleavage. But if you don't want underwire you can try contouring. Just like what you do with your nose if you want to make it look pointy, or with your cheeks for a prominent look. 
Puckering at the nips? Try a few in the same size
"The majority of bralets are single layer fabrics, which are very unforgiving when trying to fit," says Lisa. "This makes it very hard to get something to fit skin tight and can result in creases and puckering in the fabric. This could either mean there is too much space (or not enough, depending on the cut), or that the seam is slightly too long. Try a couple of different bras on if this happens as each garment could alter very slightly." 
Straps keep slipping off?
The 2 finger rule for your straps must prevail for comfortable fitting. That's why an adjustable straps is best. If they are loose on shoulders, then there is a big chance it's going to fall off.  
Racerback  
Sometimes you can't blame the bra, specially if you have a narrow shoulders. A racerback or a T-Back bra can be your option. But if your outfit requires an open collar or plunging collar outfits, this may not be your choice. This may look sporty, then again, the Silicon bra solves this problem. Smile!
But if you really want a Racerback
So you really want the racer back, you can actually turn any bra into a racerback bra. Either you can use a paperclip, or buy a racer back converter. Or perhaps you can cross clip your straps to create an X strap at the back making sure the straps do not fall from your shoulders.  
Digging Straps!
This is very common either your have big or small breast. If you are wearing the wrong size bra, straps may dig to your shoulders. The Straps are there to keep your bra from falling down and it's not the main support. The underband of the cups are the main support. Can you imagine again the Adhesive bra trying to lift your breast together with the front last ? Mmmm.. now you know what I mean! Don't think Small boobs don't need support.
"Research has shown that even the smallest amount of movement (we're talking millimetres) can cause the elasticity in the breast tissue to decrease, leading to sagging," So, while going braless is a massive small-boob perk, just don't do too many star jumps while you're at it, okay? 
Sports Bra
From the word sports bra, it is meant for sports. This is to support you from extensive workout and movement. Just remember you can't wear this with your contour or party dress. Everything has it's own use and purpose, No one bra, is for all outfit.    
Speaking of sagging
A study claims that bras make breast more saggier or may cause rapid sagging of breast. If the breast is placed on suspension most of the time, this will weaken the ligaments and will no longer be strong enough to carry the weight of your breast. It is best to go bra less as this will tone your ligaments and strengthen them. They Claim that women who went braless had a 7mm lift after 1 year of going braless.  
Next: Read how to get natural lift without a Bra!

Disclaimer: The views expressed in this article intend to highlight alternative studies and induce conversation. They are the views of the (others) author(s) and do not necessarily represent the views of StickeeBra, and are for informational purposes only, even if and to the extent that it features the advice of physicians and medical practitioners. This article is not, nor is it intended to be, a substitute for professional medical advice, diagnosis or treatment and should not be relied upon for specific medical advice.
Join the fight against Breast Cancer, No one fights Alone!  Wear your Support.
With every purchase of the

Limited Edition Fight Breast Cancer T-Shirt,
$3 will be donated  to KAB ( Keep A Breast Foundation ) to support their cause! 
Follow them on Facebook! 
https://www.facebook.com/KeepABreast/

The Limited Edition T-Shirts will only be available until 31 Oct 2017. Hurry and get your Limited Edition T-Shirts Now and Join the Fight! 
*** Please take note that TEES are shipped from a different fulfillment center. You would be receiving 2 different parcels if a TEE and a Stickeebra is ordered. Thank you.