Your home is where you stock all your belongings that you own. It is where you retreat after a hard day and rest. It is your space of peace. So it is good to organize your things to feel peace and cleanliness in your place of rest especially when you have a small space.
If you're like me and you struggle to stay organized because you can't seem to find a place to keep your everyday items, you're in luck. Here's a creative list of brilliant and cost efficient storage ideas that you can do yourself.
1. A Plate/Lid rack can be used as Clutch organizer
A small rack that is designed to hold plates or Lids has few slots to keep them upright to drip water. This can also be used to hold clutch bags and organize them neatly upright.
2. Recycle wet wipe containers to store plastic grocery bags
You can save plastic bags that you take home from the grocery and reuse them when possible. A wet wipe container can also be recycled to hold them and put plastic from it like tissue papers.
3. Use pant hangers for tall boots
If hangers can handle pants, why not boots. They are just like pants but from the bottom, it's like pants for your feet. By clipping your boots on a pant hanger, it can save space by hanging your boots and you can use the space below for other things.
4. Use Velcro to store your remote controls
Velcro is very much helpful invention, they can do a lot of things to help you organize wires and they are used in clothing too. So why not use a Velcro to store home technology like your remote. Stick your remote control for TV, game station and other things on the wall of your cabinet to use up some space.
5. Use a Magnet to hold your Tweezers
Just like Velcro, they can hold your things to unusual places like the walls of your cabinet. For your small metal tools in your household such us tweezers, bobby pins, nail cuter and the likes.
7. Store Stock Paper Towels on Shoe bags
If you consume a lot of paper towels for cleaning and you stock a few reserve, make sure to stock them on a dry place. Tissue rolls can consume a lot of space, so why not use a shoe bags to hold your Tissue rolls in a vertical organization to save up space.
7. Shower Curtain Rings for Scarf and caps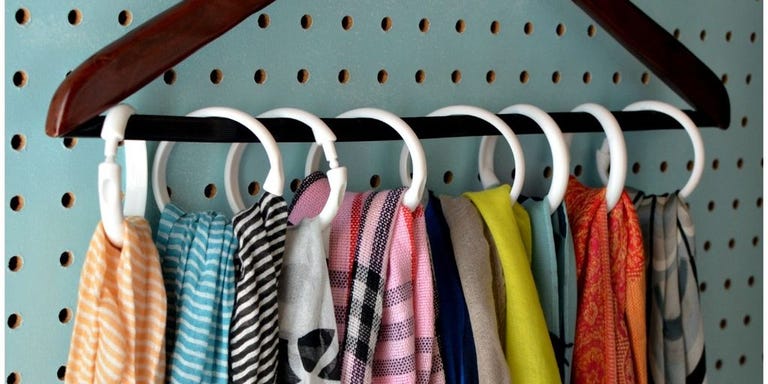 If you are a cap collector or you just have so many caps, laying them down takes a lot of space. Instead, hang them using a shower curtain ring on a hanger. You can also use this to hang scarfs.
8. Hang your Bathroom Products
If you have a small bathroom, or you just want your shampoos near your while you shower. Hang them with a shoe holder or a fruit basket for easy reach.
9. A Store display rack for your head bands
If you have your headbands on a drawer and when you open it and it's a mess and they can break. A display rack can be used to hang them and organize them by color and it is easy to choose and pick up your color for the day.
10. Store hair tools with magazine holders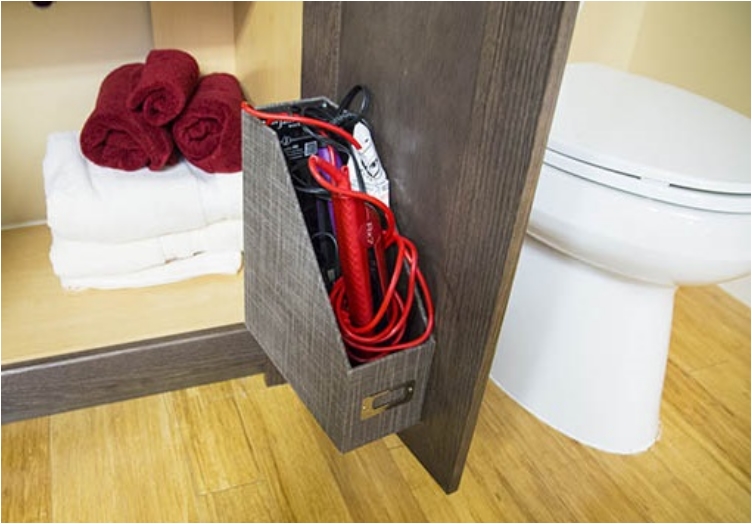 Your hair blowers and curlers may take a lot of space in your drawer; why not use a magazine holder to store them. Either place it on top of the table or on the cabinet door for more discreet and easy access to them when you need it.
11. Another Shoe holder use
Shoe holders can be store different things, you can place it under the bathroom cabinet and organize things to maximize space in it.
12. Use a wine rack to organize your purses
A woman can have a number of purses. If you love purses and love to display them for your own viewing, A wine rack can be useful to organize them visibly in your room or closet.
13. Indoor Drying
If you don't have an area to dry your laundry outside or when it rains, you can dry your clothes indoors by using a ladder to hang your clothes. Just hang the ladder on your ceiling and you'll have a plenty of space to hang.
14. Use baskets to store books
If you need a storage for books and a bookshelf is not an option for your space, make use of a basket and hang it on walls to hold your books.
15. Use empty bottles as bracelet holders
An empty glass bottle can have interesting colors that match the gems with your bracelets. Placing your bracelet on the bottle can make it more accessible and searching for what to wear is easy.
16. Use a magnet strip under your cabinets to store spices
Sometimes the space above is neglected, so if you want to maximize your table space in the kitchen, hang your bottles or spice containers with a magnet strip.
17. Use ice cube trays to store jewelry or crafts
If you need to sort our trinkets, earrings and small things, an ice cube tray is perfect to separate them from each other to avoid mixing them together and hard to find when you need them.
 Next, Learn more about Tips to keep your home safe - 15 Hacks to Keep Your Home Safe. Also, you might be interested in - 21 things every woman should keep in her bag