Spring time is here and it's nice to host a backyard party and make sure you don't miss anything. Treat your family and friends an awesome party with these Genius Party Hacks and impress them how easy and clever your party is.
FROZEN WATER BALLOONS
Keep drinks cold and looking festive with water balloons frozen and ready to sub in. I love to keep a bowl full on hand for hot afternoon parties.
ELEVATED CHIP BOWL
Use a glass bowl as chip container and put a martini glass in the center for the dip. If you need a refill on the dip, just replace it with a new martini glass with the fresh dip in it.
CONDIMENT ORGANIZER
 Barbecue Condiments: Make serving condiments at snap by using a large muffin tin. Fill it up with condiments, veggies and spoons and let your guests help themselves.
STICKY FINGERS STATION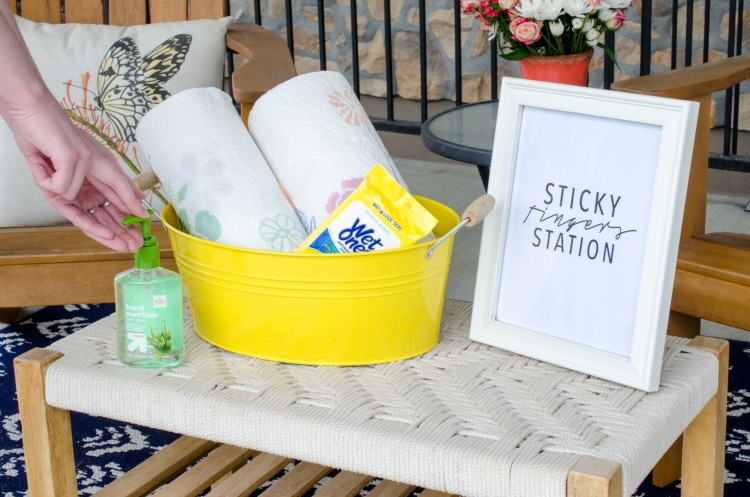 A classic problem with barbecues are those sticky fingers touching everything.  Having a simple sink or wash bucket nearby will solve the problem instantly and allow for easier eating!
READY MADE COCKTAILS
Every guest loves some choices, so why not start with drinks? Also, this cocktail display cuts out the hassle of mixing those cocktails throughout the party. With this cooler ready to go, guests can pick up a cocktail, give it a shake, and vuala! It's party time!
COLANDER ICE BUCKET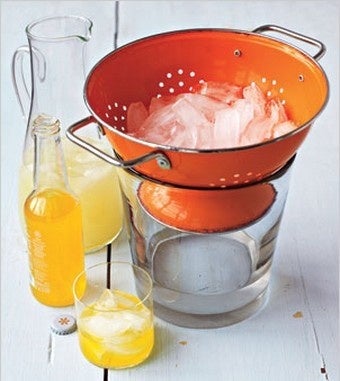 By putting a colander on top of a bowl and you can skip the ice water all together! This is a great one for summer parties when ice tends to melt faster.
OUTDOOR PAPER TOWEL HOLDER
Use a garden flag frame to keep paper towels handy and easily accessible for little ones. You can use this for any outdoor party or barbecue, or even while you and your family are camping!
WATERMELON BOWL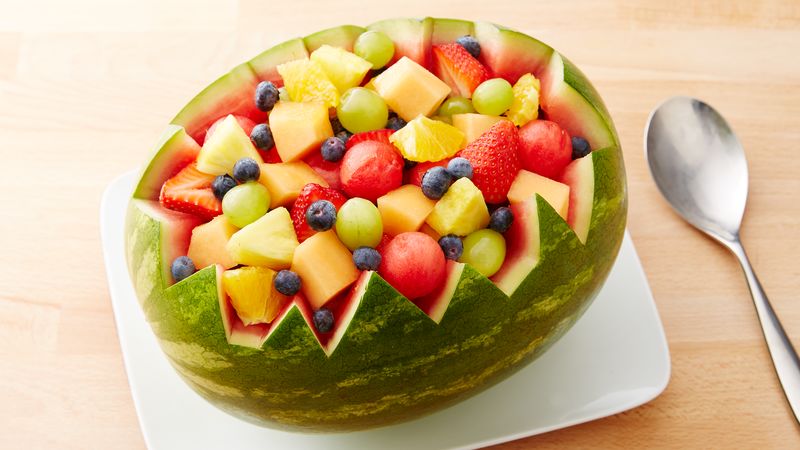 Cut up the watermelon you plan to use for a fruit bowl, and then use the hollowed-out melon as a cute bowl!
DIY S'MORES POT
When you're set on having s'mores, nothing will quite satisfy that need for a roasted marshmallow. Use terracotta pot and layer a foil inside before putting in the charcoal.
SHOWER CAP COOLER
Add ice to a shower cap then place a bowl filled with cold food like pasta salad in the cap, allowing the elastic to stretch over the sides to create an ice-box effect. Your food should stay cool for hours!
VEGGIE DIP CONTAINERS
With the peppers emptied can be improvised some bowls for the sauce, your friends will be surprised by the idea and surely, they will share it in the house of theirs. Without deviating from the salads but this time thinking about the children let's see what can be done with the tomatoes and with the rice. It's very fun!
MELTED CHOCOLATE HACK
Are you having an ice cream party with a build your own ice cream station? Melt some chocolates and ready the toppings!  This idea is also perfect for dipping strawberries, pretzels, etc. Guests will love this idea!
 ICE CREAM FOR A CROWD
This is how to serve ice cream to a crowd – pre-scoop and freeze individual ice cream portions in paper. Freeze ice cream on a loaf pan and stick some popsicle sticks and if you are ready to serve them, slice them in between the popsicles.
Next, Learn about how to make things around the house easy and breezy, Add this 19 Practical home hacks you should have known sooner!  And perhaps you might be interested in  Life-Changing Beauty Hacks Every Lazy Girl Must Know .. Read all about it!