Make up and beauty hacks have conquered social media and websites, giving viable tips as an alternative to surgical enhancements. Sometimes, these tricks are too many that are available online, which makes us feel lost as to which ones really work.
Here are the top 18 tricks that we picked that works and can be your routine too.
Black Head Removal: Toothpaste + Baking Soda
Mix a bit of toothpaste and baking soda and use a clean toothbrush to gently rub it on your chin, nose and forehead for a few minutes. Wash it off with warm water. This mixture will get rid of blackheads and cleanse the skin of extra oil.  
Beware that toothpaste might be unsuitable for sensitive skin. If you develop a rash or itchiness, discontinue use immediately.
Plumper lips
Lip augmentation can be scary to anyone.  But there are simple ways to plumper lips without going under a knife… but instead, with a fork. Poke your lips gently with a fork. This will increase blood circulation and make them look sexier. Then apply your lipstick or gloss.
Trimming Fringe made Easy
If you have no time to go to the hairdresser, then you can try trimming your fringe at home. Separate the hair you want to cut, twirl it a little, and then cut with scissors. Now you just need to make a few final snips to tidy up the shape. Done!
Magic Curls
In the past, our grandmas use to have plastic hair curlers. But today, there is a new century method. Try duct tape. Cut them into small pieces of even length. Fold so that the sticky part is inside, and then use as curlers. Sleep on them for a night, and you will have beautiful curls in the morning.
Matching lip gloss with nail color

Sometimes we want to wear matching colors on our lips and nails, but usually we don't have matching lipstick colors. Use your lipstick or lip gloss to color your nails and then cover it with 2 layers of clear top coat and you are done!
Mascara eyeliner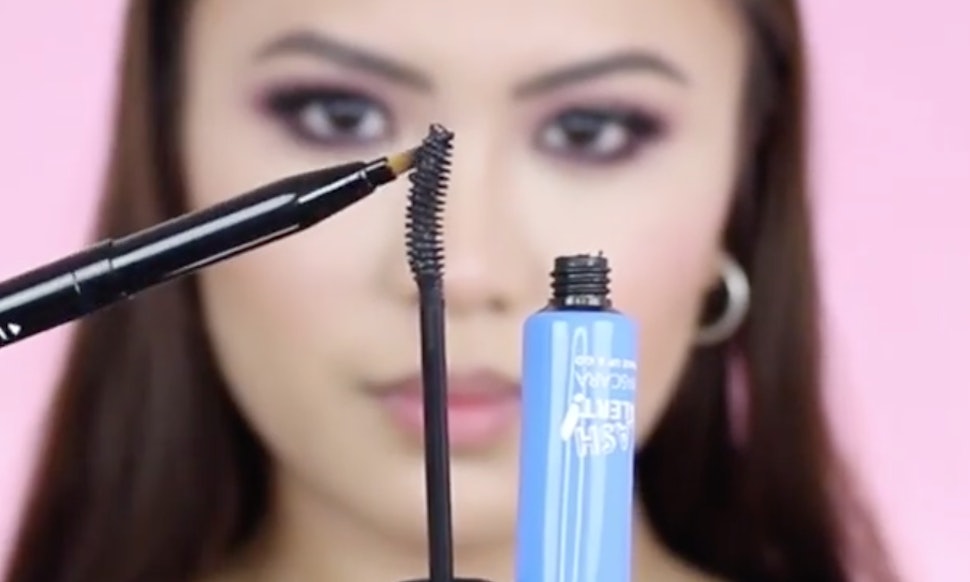 If you have a date, but can only find a mascara in your purse, then use it as an eyeliner as shown above. It will definitely complete your look!
Dark underarm trick
Worried about your dark spots under your armpits? You can use men's Dark Spot Reduction Creams.
Morning Fresh Look
What eve reason that makes you up all night, which leads to dark circles under your eyes in the morning, you just need to apply white or cream eyeliner inside your lower waterline and you will look fresh.
Ponytail lift
If you want your ponytail to look like it came from the 1960s, just use 2 bobby pins underneath it. Instant lift-up!
Reduce Pimple Redness
When you wake up with a pimple on your face can be irritating. But you can reduce the redness to make it a little discreet for your day. Eye drops are not only for eye redness, but also for pimples. Apply 1-2 drops onto a cotton pad and press against the pimple. Leave it for a few seconds, and then remove. The pimple will be less red or swollen.
Taming baby hairs
If you hate to see baby hairs while you braid or ponytail your hair, use a clean toothbrush to put them in place with some hair spray.
Toilet seat covers for blotting
No blotting paper at hand, but your T-zone needs some cleanup? Use toilet seat covers, sounds ewww.. but it works, use clean sheets of course.
Next, you may also like 7 Ways Loving Yourself with Lingerie , You may also like 19 Simple Health Hacks You Can Use Every Day