Just like every dress in your closet, a woman needs a few jewelry essentials that can transition an outfit from daywear to evening wear in seconds. From diamonds to pearls, gold and silver adds a simple elegance to any ensemble. Having jewelry means you know how to take care and store them. Here are some of the must know jewelry hacks that will help you clean, store, and secure your most precious jewelry.
DIY Jewelry Cleaner
A  mix of few drops of mild dish detergent and club soda can clean your dirty gold jewelry. Let is sit in the solution for 10 to 20 minutes and scrub away grime with a soft bristled toothbrush if needed. Pat dry with a lint free cloth.
Easy Untangle Chains with Baby Powder
Sprinkle a tangled chain with a little baby powder and be careful not to use too much, because you will have to work more on cleaning it, but it is the best way to untangle chains.
Use a Paper Clip to Fasten a Bracelet
Most of the time, it's hard to fasten a bracelet with just one hand. That's why you need someone to fasten it for you or you can just do it yourself by using a paper clip. Hook one side of the jump ring of the bracelet and hold the other side with your fingers. Take your free hand and wrap the bracelet around to fasten it.
Wall Artwork to Hide your Jewelry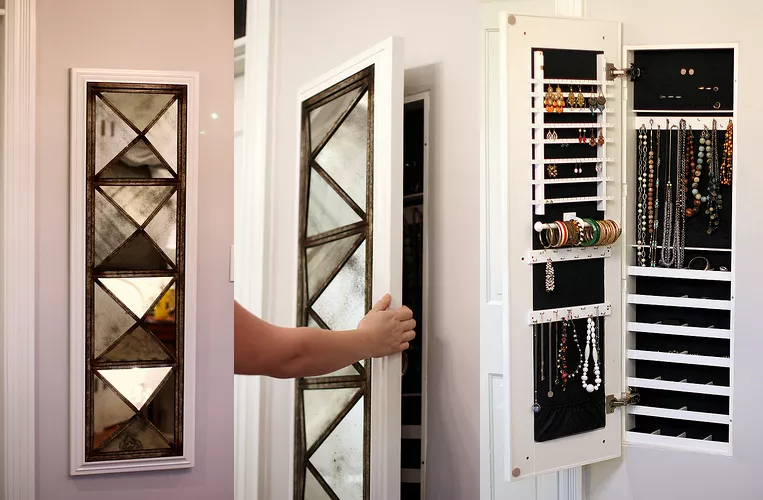 Generally, you'd prefer a safe to secure your jewelry storage, but this just isn't feasible for most people. You can build your own inconspicuous jewelry storage behind a wall artwork that burglars won't think you keep valuable things behind it. Just be sure to have proper insurance for your jewelries.
DIY Book Jewelry Box
Another way of inconspicuous storage is by creating aa jewelry box out from a unused book. Carve out the pages with a craft knife and glue them together. You can place jewelries on the carved space of the book and blend it with your book collections. No one would think you have your jewelry in there.
 Buttons as Earring Holders
Spare buttons can hold your small stud earrings to avoid losing them inside your bag. If your Stub earrings are too small to lose, because finding it would be a difficult amongst the rest of your stuff. You can stick them on the button holes by pairs to avoid losing them.
Ice Cube Tray is Great for Sorters
It's a nice way to organize your small jewelries in an ice cube tray.  Not only they can be used to separate your jewelries but they can also be stacked if you have a few of them to sort.
Plastic Wrap to Avoid Tarnishing
You can stock up more trinkets in limited space by sealing them up in plastic wraps. Storing like this will also keep your jewelry from tarnishing and getting tangled together.
Clean Silver Jewelry with Toothpaste
If it can clean your teeth, it can also clean jewelries.
Chalk to Protect your Silver
Keep your silvery jewelry from turning black by keeping a piece of chalk along with it. The chalk will soak up all the moisture and prevent your jewelry from tarnish.
Clean Gold Jewelry with Beer
Restore the shine of your gold by cleaning it with a pint of beer and you don't have to rush to your jeweler.
 Next, Learn more about How to get a good quality sleep - 15 Tips and Tricks to Get High Quality Zzz's. Also you may like - 10 Personal Hygiene Hacks You Should Know